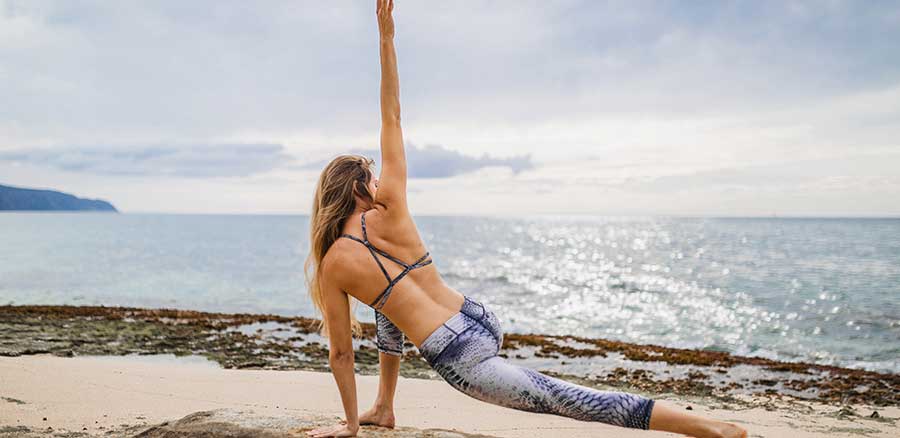 It's a trend now!
There are more and more people of all ages wearing workout gear daily. It's acceptable now in our society to wear leggings anywhere from getting morning coffee to travelling on the plane.
There is a difference between these two - yoga pants are for exercising and therefore made from thicker material and designed to absorb moisture while practising yoga. The athletic leggings are very similar to yoga pants but slightly thinner and fit tighter than yoga pants. 
The most popular are high-waisted designs that sculpt the lower body.
If you are looking for a gift for your female friend who likes activewear, here is our selection of yoga pants and leggings she will enjoy. 
Practical and fashion yoga pants and leggings will make an excellent gift for Birthdays, Christmas, New Year and Mother's Day.
TSLA
Women's Capri Yoga Pants
"True to size, great quality for a great price..."
This yoga pants are very popular and come in 27+ colours. Perfect for running or workout as there are two hidden pockets for phone & keys. Designed for strength, flexibility and relaxation. Engineered for comfort and functionality with free motion mobility.
Keep in mind that this fabric is thick, so it could be too warm for summer time.
Fabric: 77% polyester and 23% elastane - soft, comfortable and stretchy. 
Size: available from XS to XXL
💲 Price: $51.99   |  🛒   Buy Now on Amazon
CRZ YOGA Women's Naked Feeling High Waist Yoga Pants
"They do not restrict your movement..."
Powered by Naked Feeling material, these leggings are really buttery soft, slick smooth and cool to touch with the feel of the second skin. Very comfortable and lightweight with seamless waistband. 
Even though these leggings are meant for yoga and exercise, but they're also great for everyday wear.
Fabric: 71% Polyamide, 29% Spandex - slick, cool to touch
Size: available from XXS to XXL
💲 Price: $34.99   |  🛒   Buy Now on Amazon
THE GYM PEOPLE
Yoga Pants & Workout Pants
"Breathable despite the thickness of the material..."
These leggings will be great not just for a workout but for everyday wear as well. Four-way stretch Nylon material promotes both compression and support while providing a more natural feeling. The wide-waist elastic waistband will provide you with a "tummy control" and would not roll down while exercising. 
Store your essentials such as your phone, wallet, or even water bottle in two side pockets. There is also a hidden inner pocket in the back waistband where you can stash your keys, credit cards or other small items.
Fabric: 88% polyamide, 12% spandex. 
Size: available from XS-2XL.
💲 Price: $36.06-$52.30   |  🛒   Buy Now on Amazon
QUEENIEKE Womens Yoga Pants Mid-Waist Sports Leggings Tummy Control Workout Pants with Pocket
"Hidden waist pocket holds even a plus size phone, so you can focus on your runs—not your gear..."
Queenieke workout leggings are moisture-wicking, breathable and stretchy fabric running leggings that provide complete coverage. These sports leggings for women are perfect for dance, yoga, exercise, fitness, running, any type of workout, also for daily wear.
Featuring mid-waist and wide waistband tummy control activewear and basic style suitable for any season.
💲 Price: $43.00   |  🛒   Buy Now on Amazon
Neleus High Waist Running Workout Leggings 
"Technological quality is the priority of the company's products..."
Neleus has a unique design concept, excellent quality and comfortable clipping. 4-way stretch and non-see-through fabric designed to contour perfectly to your body, giving you a streamlined look. 
💲 Price: $41.81   |  🛒   Buy Now on Amazon